Useful links
Thank you to all attendees of the recent SEND Health Hub parent/carer event on the 5th November. The event was hosted by members of the SEND Health Hub, which is providing an integrated pathway for advice and support for parents and carers with children attending Manchester special schools. The event was a real success and has given the team helpful insight about the needs and views of local families. Click the link for a summary of the event which includes the things they heard from attendees and what they plan to do next.
Click on this link for the SEND pathway information leaflet
SEND Virtual Drop In
If you don't receive our newsletters and would like to,

find out how to subscribe here.
POWERED BY

Music Education Hub
Camberwell Park school is a partner of MyHub – the music education hub for the City of Manchester. Music Education Hubs develop a range of partnerships with schools, families and diverse cultural organisations to deliver a wide set of music education opportunities for all children and young people. Click the links below to find out more information.
www.oneeducation.co.uk/musiccentres
More Useful Links
Parent Partnership Service - Manchester Parent Partnership Service offers support, advice and information to parents and carers to increase their involvement in the education of their children with Special Educational Needs (SEN).
www.manchester.gov.uk/info/200071/parental_support/628/parent_partnership_service/1
Contact a Family
Contact a Family provides support, advice and information for families with disabled children, no matter what their condition or disability. www.cafamily.org.uk/index.html
Downs Syndrome association - Provides information, advice and support about Down's syndrome.
www.downs-syndrome.org.uk/

National Autistic Society - The NAS provides a wide range of information, advice and support about Autism.
www.autism.org.uk/?gclid=CKObsMKXw6MCFYlg4wodN0o7ag/en-gb.aspx
Caudwell Children provide family support services, equipment, treatment and therapies for disabled children and their families across the UK.
NASEN - National Association for Special Educational Needs. NASEN is one of the leading organisations in the UK for SEN information
Council for Disabled Children - The CDC has a wealth of information and resources including specific resource pages for parents / carers
http://www.councilfordisabledchildren.org.uk/
The fun way to plan a day out in Manchester and the uk with the kids.
Welcome to CDC's September newsletter.


Inside this edition, you can find:


This is rounded off with a host of resources and reports to read as well as surveys to complete.


Best wishes,
Parady Baptiste
Communications Officer
Minister Ford and Minister Whately host SEND Joint Ministerial roundtable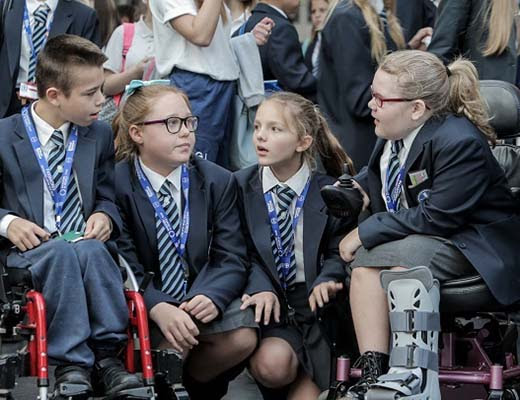 On Tuesday 15 September, key stakeholders of the SEND sector attended the SEND Joint Ministerial Roundtable to give evidence and share views on how children, young people and families and the organisations that work with them have operated during the pandemic. Children & Families Minister Vicky Ford and Care Minister Helen Whately listened to some challenging evidence and also heard stakeholders raise a wide range of issues including: the challenges of the return to schools and colleges from a parent perspective and from the perspectives of educational settings.

Dame Christine Lenehan, Director, Council For Disabled Children, issued the following statement:

" I was really pleased the sector had the opportunity to meet with ministers from DFE and DHSC today. Ministers heard the challenges, both short term around return to education and the longer-term issues of a system under pressure. We look forward to a continuing dialogue as we move towards the SEND Review."

To read more about the SEND Joint Ministerial Roundtable click keep reading below.
CDC is delighted to announce the launch of our Holistic Outcomes in Education, Health and Care Plans e-learning. This free, self-guided course takes all the key elements from our popular and well-received live training (currently being delivered online) and repackages it into a series of online modules, covering:
Aspirations
Outcomes from children and young people and family perspectives
Outcomes from professional perspectives, including writing SMART outcomes
Legal considerations
Annual reviews
The course centres on placing children, young people and family-determined aspirations and outcomes at the heart of the plan, and how the different teams and individuals involved should support the development, writing and monitoring of the outcomes.

To complete the training, click read more below.
Updated benefits information from Contact: DLA, PIP and Universal Credit
Contact's updated DLA and PIP guides now explain what happens to DLA and PIP renewals during the coronavirus pandemic and what parents should do if they're not sure what's happening with their child's claim. Both guides will help parent carers make sense of the rules for claiming these essential benefits - there to help with the extra costs of caring for a disabled child - and include hints, tips and suggestions on how to make the best application and answer the questions on the forms.
In addition, Contact has also updated its factsheet on claiming Universal Credit (UC) for a young disabled person. A young person turning 16 may have the option of claiming UC in their own right as a young disabled adult. However, if a young disabled person chooses to claim UC this can affect the benefits that parent carers receive. Their factsheet explains these rules in detail, and includes information on how a young person might qualify if they've not paid national insurance contributions, what assessments they may have to undergo, and what to do if there's a lengthy delay. All of Contact's guides are free to download from their website, or you can call Contact's helpline and ask them to send you a copy. Watch Contact's webinar on benefits for young people aged 16 and above.


Contact's 1-1 listening ear service provides free one-to-one support for parents via a telephone appointment with one of their family support advisers, these are offered at a time that suits you. 

Contact can help with emotional support, strategies for reducing children and young people's anxiety, challenging behaviour, help with structuring the day and much more. 

To book an appointment, please click read more below.


Please join us for a conference on emotional wellbeing and the return to school delivered by the National Children's Bureau in collaboration with HeadStart Partnerships. We will explore and showcase how these Partnerships are supporting schools to manage the impact of Covid-19 on emotional wellbeing.

The meeting will be held online via Microsoft Teams on Wednesday 21th October 2020 from 1.30pm to 4.00pm.

This is an opportunity to hear examples of good practice from HeadStart local areas and discuss the successes and challenges of implementing emotional wellbeing support and local system approaches, with a focus on the return to education after Covid-19 lockdown.

More details and a full agenda will be shared close to the time. We look forward to seeing you there.

The National Deaf Children's Society have updated their resource for further education staff, setting out simple tips for deaf-friendly teaching. The aim of this resource is to help staff in further education:

Make effective provision for deaf students so that they make good progress and develop the independent learning and life skills they will need in adulthood
Take the reasonable steps required under the Equality Act 2010 to ensure that deaf students are not treated less favorably than other students.

Sense: sense connect virtual programme

A series of Sense services are now also available online through the Sense Connect programme.

Virtual buddying: the Sense Buddying service, that matches a disabled person with a volunteer, is now also available online, with buddies socialising over phone, videocall or letter. Their volunteer buddies are matched with people based on their communication style, hobbies and interests, with a focus on growing friendships. Virtual Buddying is available for individuals of all ages with complex communication and sensory needs.

Siblings & Young Carers: Siblings and Young Carers is a new online project aimed at supporting the wellbeing of young people with caring responsibilities. The project includes both age appropriate group sessions and one to one peer sessions where young people can share their experiences and interests with a fellow sibling or young carer. The Siblings and Young Carers project is suitable for young people aged 5-18 who have a sibling or parent with complex communication needs.
Back to education resources

Many children and young people have returned to education. With children and young people out of education for so long and given the current climate, this may be an overwhelming experience.

To help ease the process, the Council for Disabled Children have collated a list of resources that you may find useful. These include a face covering exemption toolkit, wordless stories for primary aged children and a parents guide to support school refusal and anxiety. View here
Special Educational Needs and Disabilities Information, Advice and Support Services

Information, Advice and Support Services (IASS) provide free, impartial and confidential information, advice and support to disabled children and young people, and those with SEN from birth to 25, and their parents.

IASS can support children, young people and their parents on a range of issues including: EHC Needs Assessments, Exclusions, SEND tribunals and more.

To find out all of the ways your local IASS can help, watch the animation here.

You can find your local IASS here.

The Council for Disabled Children is pleased to share a series of resources with learning and good practice on how children's health, care and education services have adapted and innovated in response to Covid-19 whilst continuing to provide high levels of care for children with SEND.

From the beginning of the Covid-19 pandemic, children's health, care and education services across the country had to adapt quickly to new circumstances and ways of working. These resources capture some of that innovation and key learning, including around practical, workforce, technological and operational changes; risks and challenges of virtual working and the steps taken to mitigate these; the impact on workforce, children and families; and examples of how and where this innovation can be extended beyond the pandemic.

During the summer, CDC delivered two virtual events on how the sector was responding to Covid-19. These webinars included updates from NHS England and Improvement, the Department for Education, and Ofsted and CQC and su
...